Welcome to this site dedicated to railway geography. These pages contain series of maps covering the passenger rail networks of Brazil, Canada and France. A new series on the United States is under construction.
These maps only show lines offering non-exclusively tourist passenger service, including all types of rail-based urban transport systems such as metros, tramways, light rail, etc. Some information on train frequencies and travel times is included but these data are only indicative and are given in a simplified form. For detailed information about timetables and prices, you may check the sites of the railway companies given at the bottom of each page.
Select a country to view the maps. You may have a look at the legend and information section below and at a list of some other sites of interest for rail maps enthusiasts. Comments, suggestions or corrections are welcome.
Latest updates
Legend and information
Each map has its own legend describing the rail lines shown. Common features to all maps are explained in the legend below.
The coloured background of regional maps indicates relief. It is derived either from the GTOPO30 database of the Globe Project which offers a resolution of 30 arcseconds (about 1 km), or from that of the space shuttle radar topographic mission (SRTM) whose resolution is 10 times higher. Information on how to use digital elevation models can be found on the excellent Terrainmap.com site.
Rail lines are traced in Google Earth and maps are drawn using Inkscape and GIMP. Operational details are taken from information published by the relevant transport companies.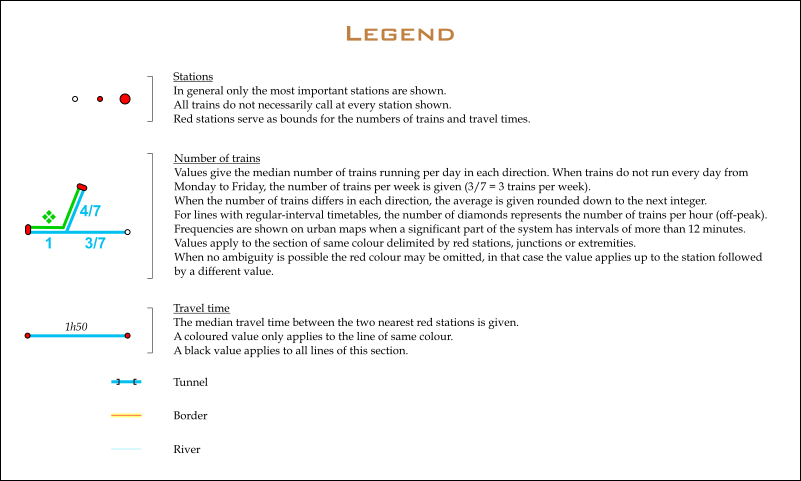 Other sites about railway geography
•
UrbanRail.Net
The reference on metros, with detailed information on every metro system in the world.
•
OpenRailwayMap
Detailed map of the world's railways.
•
Trainspotting Bükkes
An excellent collection of railway maps covering all of Europe.
•
CityRailTransit
Maps of urban rail systems across all continents.
•
Australian Rail Maps
An excellent site of maps of Australian railways, which largely inspired the present site.
•
Steam Engine "IS"
Thorough site about railways in the former USSR (don't miss the supermap).
•
Rail Transit Maps
Maps of metros and regional rail systems in Russia, Ukraine and Belarus.
•
JohoMaps
Cartography site containing original maps of public transport of some large cities.
•
itransports.fr
Dynamic mapping of rail transport in France.
•
Carto.Metro
Detailed track maps of public transport networks of European cities.
•
Kitayama Rail Pages
Complete and thorough description of rail lines in Japan.
•
RailServe
One of the largest directories of rail-related sites.
•
Fahrplancenter
Information on train travelling in several parts of the world and a large offer in timetables and maps.
You are free to reproduce these maps for your personal use, but reproduction on other sites and commercial use are not allowed without the author's consent.
The author of this site has no relation with any railway society, this site only uses publicly available data. No warranty is given for the accuracy of the featured data.